Blog Posts - Lebensborn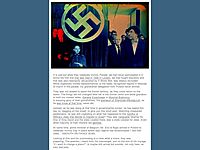 While Israel has just started to build yet another wall of oblivion, at same time you could admire General Major Robert Mood taking over commandment of Syrian peace keepers. Some, more paranoic or maybe just better informed, could considier if the...
" In the West, we have been dominated by a single tradition for 2,000 years. Now that whole tradition, the whole edifice of Judaeo-Christian morality, is terminally ill. I am trying to formulate an alternative. Some of what I say seems obscene and ev...