Blog Posts - Lipliners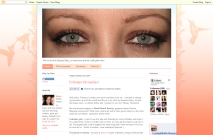 I'm a bit of a weirdo when it comes to lip liners. I rarely use them to actually line my lips... I know, but hear me out for a second. On more than one occasion, I've spent two and a half hours (not scientifically timed) carefully a...
Hey Gorgeous! This is the second "my makeup collection" post and today I am sharing my very small lipstick and lipliner collection. All of my lipsticks except for one are from The Color Workshop and all of my lipliners are from NYX except...