Blog Posts - Liz Pichon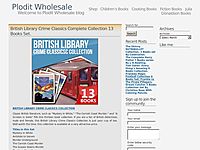 TOM GATES' EVERYTHING'S AMAZING COLLECTION Tom Gates has reasons and excuses for everything in his life. In this Tom Gates' Every thing's Amazing collection, these six children's books tell some of his fictional adventures – "Excellent... I seriously haven't laughed so much reading a Kid's book since The Twits by Roald Dahl aged 7. It's no suprise then that Tom Gates: Extra Special Treats (Not) is written by bestselling author Liz Pichon, who is winner of the Roald...