Blog Posts - Love Eating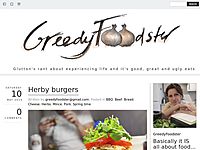 Tarts are my new obsession! I've been stuck in the kitchen for the last 2 weeks filling pastry cases with an array of weird and wonderful savoury combinations and just can not get enough of trying new flavours. The latest one – baked fennel, shal...
"You own the power to change the lens you see yourself through by choosing to fill up with feel-good potential, not by balancing your feel-good potential on images or numbers." – Natalie Marie Shapiro, Strategic Coach and Healer Thi...
Stop asking for permission to lead the life you want to lead. Healing and Empowering Video Workshop… Call us to learn more about the Body Love, Body Acceptance, Body Bliss Healing Retreat: (347) 762.4886. Meanwhile — free empowering count...
Today is Day2 of our #30DaysOfBodyLove challenge — every day, POST a body loving photo and TAG us. Plus we've got questions, videos, challenges, giveaways and more for the next 30 days culminating in a powerful Body Love Healing Retreat in Massac...
Do you want to take the same issues with you into the new year? This year has been a powerful and a year of transition for many of us. Are you ready for 2015 in mind, body, and spirit? My mission of changing the world by helping Big Vision Women chan...