Blog Posts - Luke Kuechly
Saturday, January 9Chiefs4:35 PMTexansSteelers8:15 PMBengalsSunday, January 10Seahawks1:05 PMVikingsPackers4:40 PMWashingtonAll times are in Eastern Time...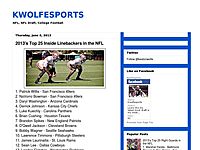 1. Luke Kuechly - Carolina Panthers2. Patrick Willis - San Francisco 49ers3. NaVorro Bowman - San Francisco 49ers4. Derrick Johnson - Kansas City Chiefs5. Karlos Dansby - Cleveland Browns6. Jerod Mayo - New England Patriots7.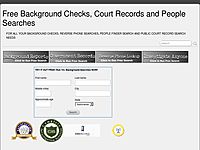 The Panthers-Patriots game featured one of the strangest endings of the year. A bad call, two pissed off quarterbacks and some embarrassed officials. The officials' decision to wave off a penalty on the final play of the Patriots' 24-20 los...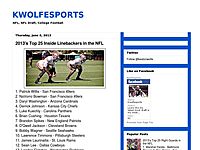 2012 Record: 7-9 (2nd Place NFC South) 2013 Draft Class: 1 (14). Star Lotulelei DT, Utah (A+) 2 (44). Kawann Short DT, Purdue (A-) 4 (108). Edmund Kugbila OG, Valdosta State (D-) 5 (148). A.J. Klein ILB, Iowa State (B+) 6 (182). Kenjon Barner RB, Or...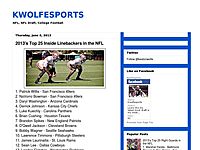 1. Patrick Willis - San Francisco 49ers 2. NaVorro Bowman - San Francisco 49ers 3. Daryl Washington - Arizona Cardinals 4. Derrick Johnson - Kansas City Chiefs 5. Luke Kuechly - Carolina Panthers 6. Brian Cushing - Houston Texans7. Brandon Spikes -...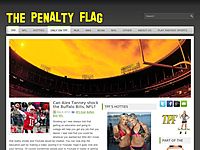 The Seattle Seahawks have had a successful off season with some key free agent signings including quarterback Matt Flynn. Look for the Seahawks to continue to build for the future during the 2012 NFL draft as they will jump on LB, Luke Kuechly early.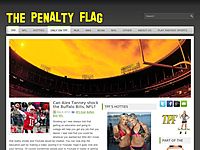 The Seattle Seahawks have been busy during free agency including the resigning of Marshawn Lynch and addition of Matt Flynn. While it may be an open competition at the quarterback position it is Flynn's job to lose. Seattle believes they may ha...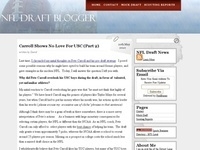 My favorite group to watch is always the defensive linemen.  I love to see the guys who are some of the best athletes in the game get out there and compete. I was pleased to see stellar performances from defensive linemen Bruce Irvin, Melvin Ingram,...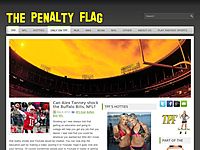 The 2011 Philadelphia Eagles were supposed to be the "Dream Team" but Michael Vick and company struggled out of the gate and failed to make the playoffs for the first time since 2007. After making a huge splash in free agency the Eagles w...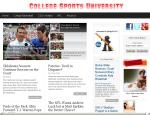 Luke Kuechly of Boston College led the nation with 191 tackles during the 2011 season, averaging almost 16 tackles per game. The team finished with a 4-8 record and was only two tackles short of breaking the single-season tackle record. He did howeve...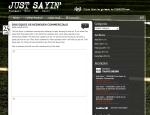 They used to call it hardship, because that's exactly what it was – college players who needed to go to professional sports to support their family. Today, early entry into the NFL is a career and business decision for the college players that ch...