Blog Posts - Makeup Lover

It's no secret that M.A.C, Sigma, Morphee, etc. have a great variety of makeup brushes to make a flawless makeup… Read more My Favorite Makeup (affordable) Brushes.

I've been an Ipsy subscriber since March this year and I have received a lot of goodies in this past… Read more August Ipsy glam bag!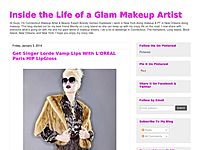 Last month I twitted about celebrity jewelry designer Alexis Bittar limited edition makeup brush for Sephora Collection. The glamxuirous 3 piece collection is called Liquid Gold which features a Beauty Brush Set, a Travel Wrap, and Compact Mirror.&nb...