Blog Posts - Malealea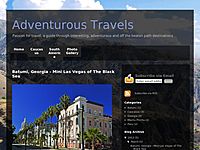 Having spent a day in controversial Johannesburg, we decided to use the final 3 days of our journey for venturing into the unknown kingdom of Lesotho which is entirely surrounded by South Africa. Although located literally within such a popular desti...
It's a hot January day and I'm in a minibus, flying across a Lesotho mountain road, wondering whether the holes in the windscreen are caused by bullets...The Lesotho Incident is a post from Sophie's World...