Blog Posts - Mansur Gavriel Mansur Gavriel Bucket Bag in BlackItalian vegetable tanned black leather bucket bag with raw interior. Detachable wallet and adjustable strap. Made in Italy.Comes with dustbag, receipt & gift box.**with defects, kindly PM for more pics.Size 12.25...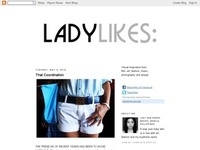 MANSUR GAVRIEL'S SPRING CAMPAIGN features great hair, great bags, color, animals and a surprisingly appealing uniformity. Where anything fashionable nowadays seems to leverage on standing out, whether through shock or subtlety, an ad campaign present...
Ear cuffs have been on my radar for a few seasons now, thanks to this entirely Elven one shown on Rodarte's runway for Spring '13. In person though, Rodarte's felt a little too Lord of the Rings, and not quite enough edgy, downtown glam for my tastes...

repetto rose mary jane at la garçonne, the kinfolk table cookbook, purple jacquard dorothy skirt and dylan top from araks via avenue 32, tocca colette fragrance, a détacher morris ballet clog at la garçonne, apc wool beret at steven alan, D&G...