Blog Posts - Market Direction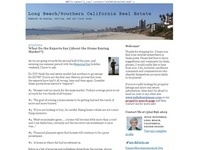 Long Beach, a great city to live in.The median price of an existing, single-family detached Los Angeles County home rose in March to $545,000 from $535,250 in February. The March 2015 median price was $510,000. All data comes from Realist. Th...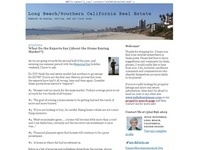 Not surprisingly, with the low low interest rates, prices have climbed especially with single family homes. Condo prices have varied, and do vary by zip code, especially in Long Beach where completely different areas have their own pricing.&nbs...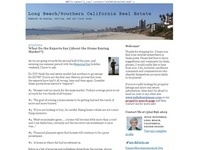 Average single family home prices in June, 2014, and the increase or decrease compared directly to June of one year ago (prices may differ from overall annualized price), plus stats on closed sales and days on market (DOM). Actual number and...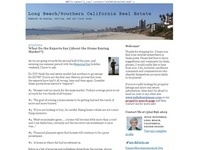 The market has increased in price! 2013 saw upward jumps in most areas for the average annual sales price of a single family home:Long Beach, increased to $489,000, +18%.Cerritos, $605,000, +11%.Lakewood, $420,000, +17%.Huntington...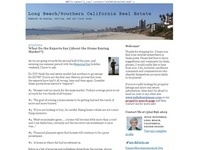 The average swelling price for a single family home (based on MLS sales prices) for October 2013:Long Beach - $541,985.Cerritos - $628,750.Lakewood - $441,549.Los Alamitos (including Rossmoor) - $713,804.Seal Beach - $910,563.Cypress - $5...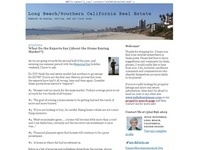 The latest market updates for April, 2013, are out for the south Los Angeles County and North Orange County cities--and here is a breakdown of stats for single family homes in local cities (all comparisons are a one-month comparison of April 201...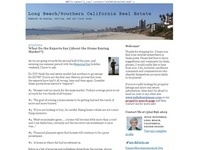 Happy New Year for 2013 -- there are positive signs in the housing market, and we hope that they will continue!Pending home sales continue to rise (Pending means those in escrow, scheduled to close), as shown by the Pending Homes Sales Index which ro...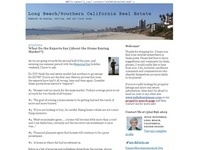 November median prices for home sales in California have increased by double digits compared to one year ago, and the number of sales have also increased on a year-over-year basis as well.Higher priced homes sold at increased numbers in Nov...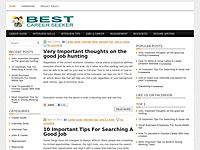 You send out dozens of resumes and no one calls you to schedule interviews. Did you ever wonder why no one calls you and why no companies seem to be interested in learning more about you? Chances are you are not effectively highlighting your skills,...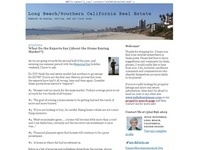 Orange County's median single family home price was Orange County $567,710 in August 2012, up from $551,160 in July 2012, and up from $508,910 in August 2011.Median price of a single family home in Los Angeles County was $344,770 in August 2012, up f...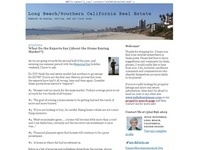 Long Beach--two months inventoryFor the last year, since March 2011, the Long Beach median prices have been jumping around. The median prices for listings and sales have gone up and down for the city, overall. These charts show the overall mark...