Blog Posts - Metaphors For Life
While doing a word puzzle, I came across the clue "widow," which gave me pause since I couldn't think of anything that means the same as widow, but then it came to me: dowager.  According to the dictionary, "Dowager" can apply to any elde...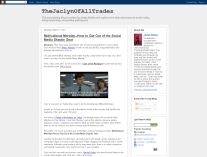 Today is the last day of March, 2012--one of the most life altering months I've undergone during my thirty years on this planet.For one, I have experienced a huge shift and growth as an entrepreneur. I passed Hubspot's Inbound Marketing exam (it's of...