Blog Posts - Multibeam
Ahead of the launch of upcoming Yamaha YZF-R15 V3.0 (Version 3), Yamaha India has given a one last update for the R15 V2.0 and R15 S before an all-new model. This is in the form of Automatic Headlamp On (AHO) by omitting the headlight on/off switch i...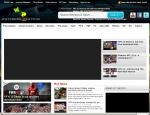 US scientists have mapped the deepest part of the world's oceans in greater detail than ever before. The Mariana Trench in the western Pacific runs for about 2,500km and extends down to 10,994m. This measurement for the deepest point – kn...