Blog Posts - Naughty Dog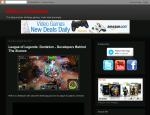 Sony is merging all of their digital services into one and there's more story details on Naughty Dog's latest project, The Last of Us. Check out the video.
The Last of US ha llegado el dia de hoy con una nueva galeria de imagenes para todos los interesados en este juego. Les recordamos que The Last of US es un titulo exclusivo para PS3 desarrollado por los encargados de Uncharted, es decir, Naughty Dog.