Blog Posts - Nikon D7200 Another photo from last week's Alpine trip. I went to visit my ol' stomping grounds, the former Woodward Ranch. I've spent over half my life running around that place and miss it dearly. I can still visit, but only from a distance now. :( On the way... I love West Texas. All of it. Alpine, Marfa, Ft Davis, Big Bend. This last weekend while shooting the Big Bend Livestock Show, I had some time to drive around and just roam. This was going towards Marfa, a few miles from the Marfa Lights viewin... This is a video montage I put together from the week we were in Salt Lake City at Outdoor Retailer. We worked 12-14 hours a day filming, editing, and uploading. It was an amazing experience, and i'm glad I was part of the team. Everything is finished... What an experience. For those that might not know, Adam Hayes (co-owner of yakangler), Chris Funk and myself headed to cover Outdoor Retailer in Salt Lake City the first week of August. Chris and I had never been, so it was an eye opener. We were t... After doing some maintenance work on the site, I realized for some reason this story never published here from a few weeks ago. I had posted on a kayak fishing forum and our Trailing Hook Journal site, but didn't realize it never got posted here. So... After two and a half weeks with no days off, I was able to make a short run to the river on Tuesday. I had a very short amount of time to go, but really needed to work on some river film projects i've put on the back burner because of my schedul... I haven't had much time lately to do much of anything outside of work, including over here. But I was able to get out on Tuesday to get a little shooting done. It was raining so I left all my regular gear and kayak at home. I threw in my cameras and...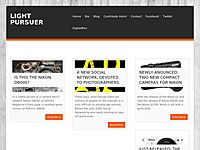 Since the announcement of the D7100, not much has been going on. Most of us have returned back from the excitement and to the normal way of life and are waiting for the D7100 to be released into the consumer markets in later March. So what now? Well,...