Blog Posts - Nonesense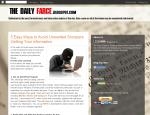 The Independent today made a decision that would have usually been beyond it's usual, more reasonable slow news day items. A slow news day sometimes cannot be avoided, but what news outlets choose to peddle on these days can sometimes fall into the r...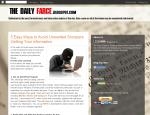 http://www.mirror.co.ukKneejerk cries of racism in Sweden have marred an event at the Museum of Modern Art in Stockholm as Lena Adelsohn Liljeroth, Minister for Culture and Sport cut a cake designed to look like a black woman. The cake itself, design...