Blog Posts - Ocean Kayak It was another beautiful river trip on the South Concho last week. Weather was perfect and the fish were biting. Here's my full trip report with lots of photos...http://trailinghookjournal.com/2015/12/10/off-to-the-river/... I didn't realize how hard it was going to be to keep up with the various blogs i'm either doing solo or as a collaboration. They are all around outdoors, kayaks, and fishing, but each has a different purpose, and strangely, different audiences. Unfor... What an experience. For those that might not know, Adam Hayes (co-owner of yakangler), Chris Funk and myself headed to cover Outdoor Retailer in Salt Lake City the first week of August. Chris and I had never been, so it was an eye opener. We were t... I thought last week would be my last river trip of the year, but things worked out for me again this Tuesday. After sitting down on Monday and trying to figure out how I could make it happen, I opted for a quick trip down a stretch of river I have... It's been nearly six weeks since I have been able to get on the water. Work has gone crazy and you have to get it while you can. Hopefully this will be the longest stretch until next year. It's always tough around this time, but six weeks real... "The art of fly fishing is not easily mastered. But the art of humility...now that, I am a master." -Great Scott While going through my normal daily forum reads, I came across a thread that got me thinking about this par... I finally had a chance to finish and upload our Pecos River video we took back in November. It is about 18 minutes long, which is quite long for youtube, but I felt I needed to leave it as it is and not edit anymore out. Mainly because, I remember wh...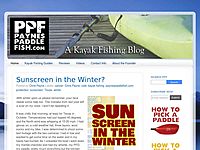 After asking for input on recommended kayaks under $600, the walls opened up and an outpouring of models came to the forefront. Three of these were heard time and time again so I wanted to present them to you as a follow up. You guys are full o... It's been a week since Nicholas and I got back from the Pecos River, and I was in dire need to go do some fishin'. Normally it takes about thirty minutes to get everything ready to go and get loaded up for a trip to the water. This time was a little... Wednesday began as any other, work work work. Then at 12:30, I had the opportunity to leave and I flew out the door. I raced home, grabbed my yak and gear, and hauled to the river. I decided it was a fly fish only trip today. I was on the water by... Finally the best part of the year has arrived. The weather is nice and more importantly, the crowds have left the beautiful lakes and rivers for the season. Yeaaaaa. There are still a few out, but nothing like it is during the summer. Usually a... When the kids were real little, I used to say, "I can't wait until they get older so they can get out there with me and hold their own."My wife said, "careful what you wish for." It was just four short years ago my son, 8 at the time, got his fi...