Blog Posts - Old Coot
A comment left at a blog five years ago revealed itself as I did a Web search. The wording sounds like my writing and it has my name on it so I am sure it is my entry. Here it is: . The Disgruntled Old Coot, also known as Obbop, is far from being a [...
. .   As placed at a MGTOW site I repeat that post here for no particular reason except because I want to. Perhaps this posting is that minute piece of my "feminine side" that some dames declare exists since there is some overlap bet...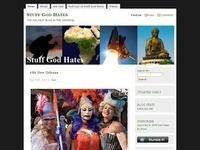 Prepare thyself, he who reads this, to tremble and quake before the Incredible Word of God, as written by THE LORD HIMSELF! OLD PEOPLE PISS ME OFF! Take a look at what this old coot* said about Me: God Would Not Endorse ObamaCare How dare this half-r...