Blog Posts - Oldest City

"Our shores have been a place of discovery for over 441 years." – City of St.Augustine This past July my best friend Katelyn and I went to St. Augustine on a day trip to celebrate her birthday. Having grown up together and only being a year apa...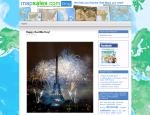 While St.Augustine, Florida might be the oldest European established city in the US, from November till the end of January it shines the brightest.   This city is old. Claimed in the name of Spain by Pedro Menedez de Aviles in 1565, the establis...