Blog Posts - Online Photo Contest
Our cute celebrity guest, Disha Ram at the Click a Smile, 2015 Exhibition on 30 April, 2016, which was held at Mantri Square in partnership with Britannia Good Day.Disha Ram inaugurating the exhibition by lighting the ceremonial lamp for th...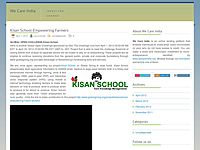 Posted in NewsCGAP last week announced the winners of it's annual photography contest. The below picture titled " Happiness" won the third prize. The post Third Prize Winner of the 2012 CGAP Photo Contest appeared first on We Care...