Blog Posts - Palitha Silva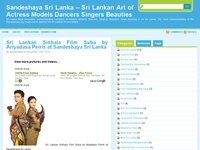 Cinema veterans Sunil T. Fernando and Sanath Abeysekara have recently sat down to make plans for their new movie "Maharaja Ajasaththa", reports say. Accordingly the inauguration ceremony of the movie was held on the 17th at the Gangarama Vihara,...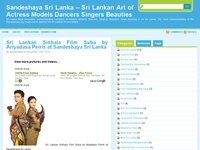 තරු අතර මම, යෞවනය ගැන චිත්‍රපටයක්. යෞවනයේ සිහින, අභියෝග පිළිබඳ චිත්‍රපටය ක්. එමෙන්ම ආදරය ගැන චිත...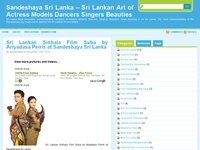 Adventures of Ricky Deen sinhala movie by Boodi Keerthisena. A story about a failed actor. Using iphone filmmaking DIRECTOR: Boodee Keerthisena WRITTEN BY: Onome Ekeh and Boodee Keerthisena CINEMATOGRAPHY: Dimuthu Kalinga EDITORS: Ilham Hossein &...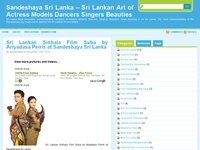 Screening of Sunil Ariyaratne's latest film 'Kusa Paba' starts on January 21 in the EAP Board, including at Savoy Cinema. The day of special significance, in that it marks the 65th anniversary of Sinhala cinema. The film was shot entirely at th...
Sinhala Film Nimnayaka Hudakalawa Movie Story Award-winning film director Boodee Keerthisena has always been a person who likes to try out something new and unpredicted. The maker of hits like Sihina Deshayen and Mille Soya began yet another chapter...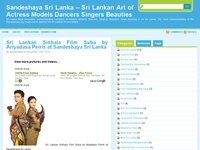 Sinhala Film Ira Handa Yata by Benet Rathnayaka at Sandeshaya Sri Lanka View more pictures and Videos… Sinhala Film Ira Handa Yata Cast Main Actor : Mahendra Perera Main Actor : Palitha Silva Main Actress : Chandani Senevirathna Actor : Roger S...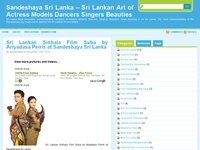 Sri Lankan Sinhala Film Nimnayaka Hudakalawa by Boodi Keerthisena at Sandeshaya Sri Lanka Sinhala Film Nimnayaka Hudakalawa Cast Actor : Wasantha Monarawila Actor : Lakshman Mendis Actor : Kingsly Rathnayake Actress : Sachini Ayendra Stanley Main Act...