Blog Posts - Patient Testimonials Amie Had Gastric Sleeve Surgery in Tijuana, Mexico I was sleeved on 4-20-15 by Dr. Louisiana Valenzuela, and she was fantastic. 3 of my friends have all had her as surgeons and one had Dr. Ponce. And my friend going in November has Dr. Louisiana Val... So here it goes…I am putting it out there It's time to let it out of the bag, so to speak. I am proud of the hard work that has gone into creating a new me. In October of last year I sat across from a doctor who said I was lucky to have a... Dallas, Texas Seminar, June 25th, 2016 First off, we'd like to extend a genuine thank you to all who attended our Dallas, Texas seminar this month. We always enjoy meeting with people face to face and allowing them to meet our staff in person.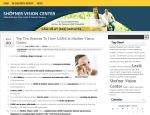 Shofner Vision Center strives to provide the highest standard of care. Dr. Stewart Shofner, Dr. Kevin Johnson and the Shofner Vision Center staff want to express our gratitude to our patients for providing personal referrals and feedback to online re...