Blog Posts - Pearl Necklace
Each and every year we struggle to find a perfect gift for HER for Valentine's Day. What would that be? A classy candle-lit dinner? A bouquet of her favorite roses? A little jewel she will never part with again? A little bit of each? In case you st...
If you don't know what to get your Mom for Mother's Day this year, why not try your luck in our Catherine necklace Giveaway? Head to Jeannette's blog at The Adventures of J-Man & MillerBug for up to 14 free entries in the giveaway. This contest end...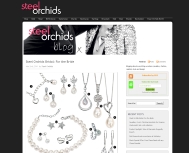 This month for our giveaway, we've partnered with fashion blog We Heart Vintage to give away a Fiorelli pearl necklace. You have until 9th March to enter, so good luck! You can find full competition details here Readers who viewed this page, al...