Blog Posts - Peer Pressure
In light of some of the very recent developments regarding Buffalo Public Schools, I have been spending a lot of time thinking about the recent posts at City Kids Homeschooling regarding Keri McDonald's interview with Huffington Post. Keri McDo...
While I seemed to excel in other subjects throughout my schooling, learning languages was difficult. I learned a small amount of French in elementary school, Latin in high school, and Spanish in college. Little of any of it stuck in those...
At first, I wasn't going to read this book because we homeschool and don't deal with traditional homework: However, since most of my childhood and teenage years were consumed by homework to the point that college was more of a break, I was drawn...
Another great post at:City Kids HomeschoolingRead it and my comment!
I haven't been too big on malls generally because I hate shopping and the setting is pretty artificial compared to shopping in a thriving urban setting. There have been times in my life though that I have gone to malls more often. One tim...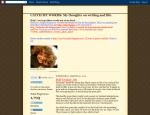 Back in the early seventies, I was another dumb kid just trying to fit in when I learned a powerful lesson on how to treat people. As a reward for all of our hard work, the school took us on a field trip to one of the best playgrounds in the world–...