Blog Posts - Petite Meller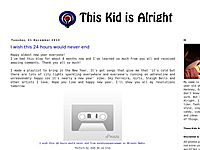 Listening to Petite Meller's Baby Love over and over again. The video is stunning and was directed by A.T. Mann and Napoleon Habeica. It's filmed in Kenya and normally when I see videos for European artists filmed in Africa this weird feeling ri...

If you haven't heard already about French singer and songwriter Petite Meller (which is offence per se) now it's the right time for a proper introduction. The girl with a sweet voice and pink cheeks recently came out with a new video for her newe...