Blog Posts - Pies Savoury

I used some of that chicken I poached the other day and made a pot pie for our supper the other night. It fave me the chance to use my new pie dish and my new Cockeral/Rooster Pie Funnel. Its just so adorable, and well, Chicken Pot...
It's that time of the year again! Cold, windy, rainy, Christmas is on the horizon, so let's stop for a warm comforting pie using the Judge Deep Pie Maker which will make a lovely homely gift. Here at Kitchen Delights we love pies and it doesn't matte...
Fresh from the ovenI'm originally from Stilton Cheese country and these mini pies are a reminder of the shires.When I made my cottage pie I used just half the meat mixture and with the remainder I made these mini pies. Bought shortcrust was used...

I don't know about you, but I am right in love with the Joseph Joseph line of cooking and baking utensil products. They are always such fun and in such brilliant colours! I could spend hours looking at all of the line wh...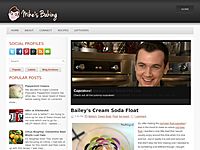 I normally feature cupcakes or other sweet treats on here with the occasional savoury recipe. However, I haven't featured many tarts or pies here, sweet or savoury. It's not that I haven't tried making them because I have had this fabulous book, Tart...