Blog Posts - Politics Of Corruption
While with his crusader mentor he was a dedicated and committed worker-activist trying to root out corruption from the face of India. His principles were then in the right place as he was fondly called the right hand of his mentor. However, he had an...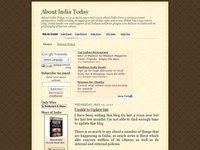 Corruption charges and scams are new face of Indian politics these days. It is good news that more and more scams and corruptions cases are being discovered one after the other which not only shows the faces of corrupt politicians … Continue re...