Blog Posts - Pq Meters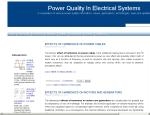 The UIE/IEC Flickermeter is the standard for flicker measurement. Its main function is to provide assessment of the flicker perception caused by voltage fluctuations. Therefore, the flickermeter should be designed to have the capability of transformi...

True RMS Multimeter, as the name suggest, measures the real root mean square value of the input current and voltage. It utilizes an integrated circuit that derives the true RMS of dynamic and complex waveforms of all shapes and sizes. This capability...