Blog Posts - Pregnancy Resource Centers Holiday campaigning 4 life? What is that all about? Well, what is this year known for? What do we focus on? And whose lives do we uphold? Let's Count the ways! Holiday Campaigning 4 Life Giving of Our Time Holiday campaigning 4 life means givin... Abortion kills millions of unborn babies yearly. Abortion also kills unborn babies outside the U.S.. Unborn lives are on the line worldwide! Remember Worldwide Abortion The Reality Talk about a full plate! Abortion kills thousands of babies, daily, i... Babies? Moms? Whose life is at stake? Babies? Moms? Who faces life-altering, difficult decisions? Babies? Moms? Who needs us more? Babies? Moms? Who is most vulnerable? Babies? Moms? Who do we deal with directly? Babies? Moms? Whose needs are more pr...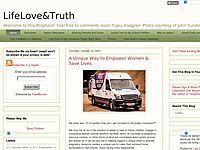 This is the time that many of us see as the season to focus on giving. Interested in helping to save lives through helping girls and women who face crisis pregnancies? Here is how the cause I'm raising funds for, works. Save the Storks is a public ch...