Blog Posts - Prescott History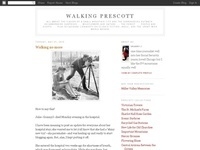 Friend Andy C. sent this image of an old postcard entitled simply "an irrigation system near Prescott Arizona". He believes it is the original flume carrying water from Willow Creek in the Dells to the Bianconi Ranch. A brief history he passed along:...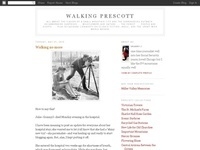 This curious representation of "historic" Prescott hangs near the entrance desk at the Sharlot Hall Museum and is called "Prescott -- 1864-1924". The title caught me up short, but then I spent a little time studying details to discover the painting...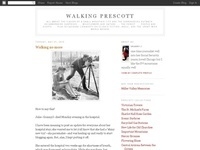 Ther is something very sad and lonely about roadways that have been decommissioned. Northern Arizona is full of bits and pieces of old Route 66 and older SR89, if you are on the lookout for them. And they are accessible, being on federal and state la...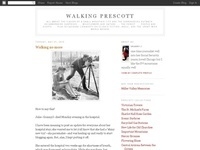 I'm still not used to the idea of an SR89A with four lanes of traffic. Nor an on-ramp to a straight-away rather than a curve through rocks in the Dells to cross Granite Creek. In all the years that I've known Prescott, this pretty approach to the bri...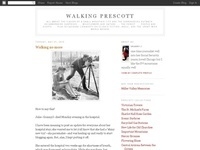 Today, my neighbor, the contract archeologist, took me on a tour of Prescott's recent past. The highlight, a tour of what's happened to Old 89A. However, that post not only requires a lot of pictures, PhotoShop time and simply mulling things over, it...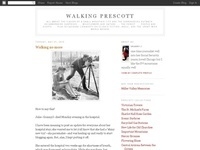 Aside from the old truss bridges at Perkinsville and Walnut Grove, the railroad span across Hell Canyon has to be one of my favorites. I do not have a date for this image, but Hell Canyon carries a running stream, which means that it's spring runoff...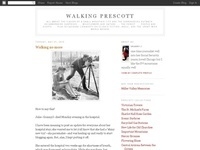 Yesterday's post about the demise of the Willow Creek KMart resulted in a certain measure of wist regarding local institutions that fade into history. Which suggested that it's time for a few more pictures of a far older institution that continues to...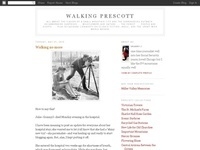 That fortress-like building over on East Gurley? It was built as a quasi-fortress, being the National Guard Armory from its completion in November 1939 until the guard deeded it over to the City of Prescott in 1980. Today, it is officially the Grace...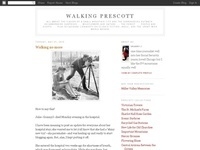 He's gone missing! Our own muffler man, who's looked east over Fair Street since at least the 1970s, has vamoosed. When my late husband and I moved to the Prescott area in 1981, he stood there promoting Big Johnson's real estate.Last year, he had cha...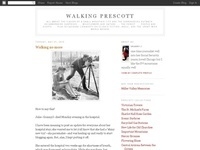 I am disabused.Of what? Of the idea that the English talk of apartment blocks is a strange use of the language. I had never heard of any individual buildings in this country referred to as blocks (even tho I went through a brief period of Chicago-sty...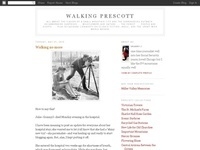 Come to think of it, I don't know quite what one is supposed to wish others on Cupid's day. Merry doesn't cut it ... best wishes for, well that's kinda awkward. So I'll settle for happy. And a Snoopy flag. You see, I haven't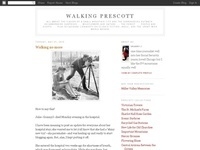 Last night, I gave up, promising to finish this post today (Friday); now, after consulting The Google re: Whipple Barracks, I am overwhelmed with bits and pieces of historic information (something like 29,000 citations). They rang from the Buffalo So...