Blog Posts - Project Score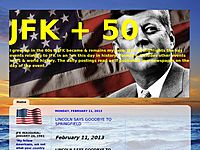 JFK+50: Volume 7, No. 2162USA LAUNCHES CHRISTMAS COMMUNICATION SATELLITECape Canaveral, Florida (JFK+50) Fifty-eight years ago today, December 18, 1958, the United States launched a "unique communication satellite" from which the recorded...
On This Day: Bake Cookies Day!!! (Click on the image above for more detail On This Day) Also On This Day: International Migrants Day Flake Appreciation Day - Appreciate that crap that you hate to shovel! The United State celebrated its first Tha...