Blog Posts - Qobustan Aby poczuć się jak na księżycu wcale nie trzeba uczestniczyć w jakimś niebywale kosztownym projekcie kosmicznym. Jest wiele takich miejsc na Ziemi, które swym wyglądem niezwykle sugestywnie przypominają nam naszego tajemniczego satelitę. W...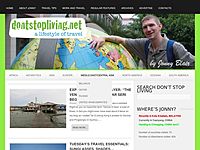 Don't Stop Living - Jonny Blair - a lifestyle of travelTaking a trip out of Baku to Qobustan to see the rock inscriptions is a top tip while touring Azerbaijan. Qobustan is a world heritage site, as listed by UNESCO. That fact alone makes it worth se...