Blog Posts - Rajkumar Rao
Rajkumar looks like Virat Kohli in this look! Rajkumar Rao is getting a unique feedback from people around him. The actor who had grown dense beard and a mustache recently started getting a unique feedback from people around! Whoever Rajkumar met sha...
The film which is being directed by Amit Masurkar will see Rajkumar Rao play the title role. Rajkumar, the youngest national award winner will yet again present a new and different avatar in the film. Rajkumar Rao, who has proven his acting skills in...
Rajkumar Rao 's wish to play Steve Jobs Rajkumar Rao's fondness towards biographies is known to all. We have seen the actor portray Shahid Azmi on screen in his film Shahid. He essayed the real life character so brilliantly that he went on to bag...
Five apps that are Rajkumar Rao's staple Rajkumar Rao shares the names of Applications which help make his life easier. These Apps are a reflection of all the qualities that the award winning actor possesses. The actor being an explorer uses so...
Rajkumar Rao and Patralekha mobbed by student fans The duo recently visited Bangalore where a lot of students came to meet, interact and take pictures with them. Rajkumar Rao had gone to visit Patralekha's school there where she had studied for...
We, as an audience have always enjoyed watching Big ticket films with Superstars in earlier years, but Indian Cinema Audience has changed over the years. People now have started accepting real cinema with realistic backgrounds and plots comprising...
Like Aamir Khan and Farhan Akhtar, Rajkumar Rao has come on board to endorse Titan Young actor Rajkumar Rao has shown considerable achievement in the industry already by delivering phenomenal performances and also winning the National Award and other...
Kai Po Che actor, Rajkumar Rao seems to be impressed with Mohit Suri's style of working The National Award winner for Shahid, Rajkumar Rao, will be seen in Mohit Suri's next, Hamari Adhuri Kahani. While Rajkumar Rao has always been a favourite of...
Rajkumar Rao who is currently in news for winning the Dadasaheb Phalke Foundation award, is someone who is very fond of reading biographies Very few know that the actor has a special interest in learning about the journeys of various personalities. I...
Rajkumar Rao wins the Dadasaheb Phalke Foundation Award for Best Actor The Kai Po Che actor, Rajkumar Rao, who has delivered phenomenal performances in his past films, has now won yet another prestigious award for his talent. The actor has received t...
Going by the National Award ceremony in the last two years, the Kai Po Che actor Rajkumar Rao has something to be happy about. The actor won a National Award for his tremendous performance in the film 'Shahid' that received immense critical accla...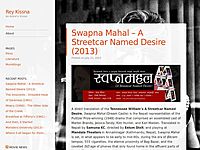 Hansal Mehta's City Lights depicts light beaming through the corridors of Mumbai in a demographic way. Contrasting much to daylight, these bright and sparky nocturnal lights of Mumbai tell its own story of a family seeking illumination—living in...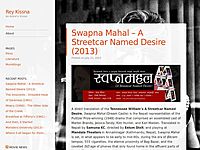 Enter Rani, the innocent, industrious, sweet, and naïve girl from Rajouri who resolves to go to her honeymoon all alone after the dejection of rejection by her fiancé Vijay (Rajkumar Rao) just three days prior to her marriage. Enduring this adventu...