Blog Posts - Re-furbishing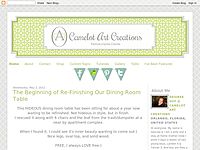 I couldn't be any happier with this makeover! I scored this empire dresser for $30 believe it or not! The veneer is cracking and peeling in places but that didn't scare me. I always let a piece sit in my home unfinished for a little wh...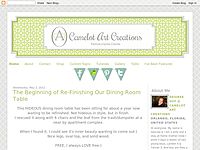 I have become obsessed with Facebook classified groups! It's basically people posting stuff for sale in group pages. I'll admit though, I buy more than I sell....shhhh don't tell my husband.I picked up this antique sofa table for a steal! &nbsp...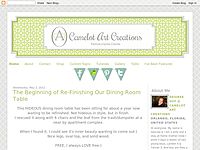 It's a little hard for me toss solid wood items! My boy's were ready for a room makeover and it was time to toss their desk. I tried selling it for a small price and nothing. Before tossing it I saw a new life in the drawers! &nb...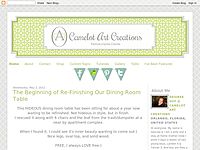 I am completely smitten with this makeover! We have had this buffet for some time now waiting to be made over. My husband had had enough of it taking up room in "his" garage and brought it inside. I'm glad he did because it...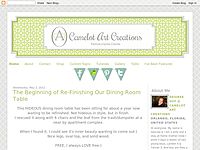 I have finally finished the dining room set! I have a couple more of the cain chairs that came with it to refinish though...good enough for now:) I still need to paint that back wall.I bought those two claw foot chairs at a thrift store a while...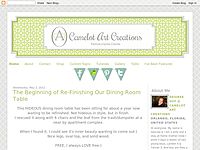 When I pulled this door out of the dumpster I wasn't really sure what I was going to do with it but I knew I would use it! Ikea shelf brackets and a pallet plank.The UGLY BEFORE:don't mind the mess please.I primed and painted the door in grey.Th...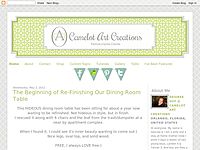 The table is done...well I still have to wax the base. I used my Free Quart of Clark & Kensington Paint from Ace Hardware in Bone White. I was planning on distressing it, but after seeing it finished I really like the "clean" looking base wi...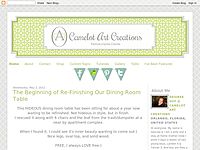 This HIDEOUS dining room table has been sitting for about a year now waiting to be refinished. Not hideous in style, but in finish.I rescued it along with 6 chairs and the leaf from the trash/dumpster at a near by apartment complex.When I found it, I...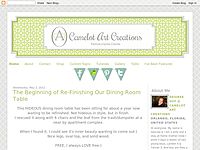 If at first you don't succeed, try again...and AGAIN! Although I liked the original finish on this antique chest, I had to be true to myself and go with what is more ME. I had an image/idea of what I wanted this piece to look like and I had planned o...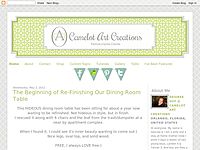 I picked up an antique children's bedroom set about a month ago that my mother found for sale in her neighborhood...THANKS MOM!! She sent me the link to the add with pictures and I was SOLD! From the pictures I couldn't tell that they were "child" si...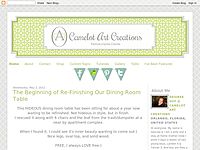 My garage sale side table find is now done with his makeover!!!Anyone up for a game of chess or checkers?I'm naming him "knight"You can see more before pictures HERE. The darker color is Martha Stewart: CrevecoeurThe beauty of this piece is...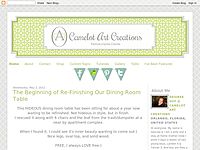 This is the side table I picked up over the weekend at a garage sale. I was waiting on the lady to come pick up the desk I sold, so I was a little late out of the gate for the community garage sale. Everyone was pretty much packed up or pa...