Blog Posts - Rebecca Watson
In 1951, Marcus Messner, a working-class Jewish student from New Jersey, attends a small Ohio college, where he struggles with anti-Semitism, sexual repression, and the ongoing Korean War. Based on Philip Roth's 2008 novel "Indignation". My friend Vjack  over at Atheist Revolution has a post titled "The Day The Atheist Movement Died". In case you haven't noticed I've been absent from this blog, that has been due to another issue that need to be addressed. Now... In case you haven't heard enough of Rebecca Watson telling you what to do she is at it again here. She is pissed that a white male is allowed to have a voice. Even though he spoke about a legitimate issue involving feminism. It wasn't wha... Rebecca Watson has been acting without any concern for others IMO. She continues to blab any play the drama card in what appears to be a need for attention. When she talks about people making claims that she just needs attention her sarcasm an...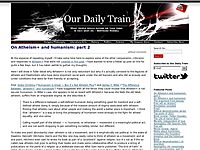 Our Daily Train | By Jeremy StyronWant me to make a long story short for you? Thunderf00t, a.k.a. Phil Mason, said some things about misogyny that some people thought were controversial while on a brief run over at Free Thought Blogs, and regardless...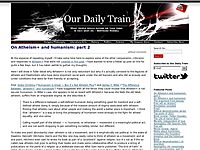 Our Daily Train | By Jeremy StyronHow to describe this "new wave" of hypersensitive, reactionary, dogmatic and witch-hunt brand of feminism that has surfaced in the last year, with Ophelia Benson, Jen McCreight, Rebecca Watson and others... In a blog on the CFI website Ronald Lindsay presents some good news. The Center for Inquiry is not going to be shunning speakers just because a bunch of people have threatened a boycott if a certain person is...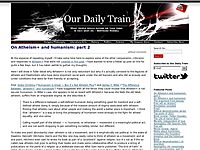 Our Daily Train | By Jeremy StyronA user named d4m10n posted the following on the Atheism Plus forum on Oct. 29: Atheism Plus vs. SlymePit I'm posting this on both forums, word for word. My apologies in advance. I'm working on a post co...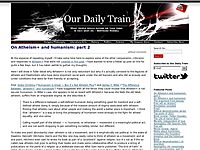 Our Daily Train | By Jeremy StyronVia MykeruMedia:...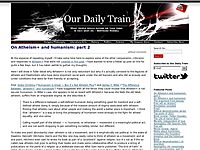 Our Daily Train | By Jeremy StyronSo, apparently something I said recently struck a nerve with one reader, to the point that he felt compelled to say near the end of our discussion in the comments section: You're under no obligation to support...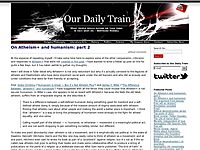 Our Daily Train | By Jeremy StyronDeacon Duncan over at Free Thought Blogs made an interesting post today about feminism and what he calls, "counterfeminism." Duncan grappled with the question of why some women are vehemently against femi...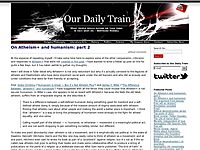 Our Daily Train | By Jeremy StyronAs a number of folks on Tweeter had posted a link to the Salon.com article, "Atheism's growing pains," particularly because it referenced Atheism+, I thought I would have a look. I skimmed half of i...