Blog Posts - Roseanne Barr For President
You know, I like Roseanne Barr; scratch that, I am totally enamored with her. I know, I'm a Democrat, and she is a Green Partier for the POTUS, but, man, I am smitten by her.Now don't get me wrong, I hate the fact that she's for the guillotine to cut...
Remember when I wrote about being a Green Party recruit? Goodbye Democrats and Republicans ... wouldn't want to be you. See ya ... Well, I have softened just a little bit, and I'm going for the Democrats. So sue me.You know, I like the Green Party, I...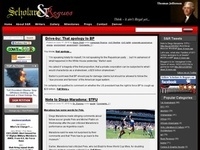 "I left in love, in laughter, and in truth and wherever truth, love and laughter abide, I am there in spirit." Who said it? The answer is at the end of this post. Now on to the links! … "It's really hard to be objective...