Blog Posts - Scion Concepts
To be frank, Toyota got it right the first time with the original concepts for the 86 and the FR-S, but for one reason or another, it toned down the design of both models when time came to introduce the production variants. While no doubt a success,...
The 2013 edition of the Tokyo Auto Salon is turning out to be quite the event with many surprise debuts being announced as we approach closer to the grand opening that takes place on the weekend before the Detroit motor show in mid-January. Today we...
Anyone remember the craze over the comically-looking mini supercars created with the help of photoshop and various other image editing programs from a few years back? After a gazillion different design concepts of any vehicle you can think of, the f...
One model that is more than adequately represented at the 2012 edition of the SEMA show is the new Scion FR-S, which to be frank, was something we anticipated since the Japanese carmaker's sports coupe did not make in time to participate in last...
The newborn children of Toyota's love affair with Subaru didn't come to life in time to experience last year's SEMA Show, but the two companies have been working on the side to make up for it at this year's Las Vegas event that kicks...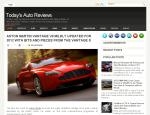 The speedster adaptation of the Scion FR-S was created by Cartel Customs, a California-based aggregation headed by Jeremy Lookofsky, which specializes in the architecture and accomplishment of custom affectation cartage and motorcycles. While the na...