Blog Posts - Shell Pearls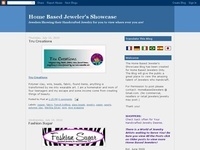 Jewelry by JoanneOne-Of-A-Kind, Affordable, Original, Designer Jewelry, With Complimentary Earrings! Location: Lewiston, Maine, USA...
I was invited to attend my dearest friend Soo Chin & her hubby Jason's Register of Marriage ceremony on 22th November, 2011. So honored that she agreed to let me personally design and handmade a set of tiara, necklace and earrings as a gift for t...