Blog Posts - Simon Fowler More wonderful music from 1996 as RW/FF takes you aboard a musical TARDIS on a journey through musical history. If you weren't around or were too young to remember the mid 90s, consider this a lesson of enlightenment. If you (like me) were... This year marks 20 years since Ocean Colour Scene released their classic album 'Moseley Shoals'. The band will be playing the album in its entirety on tour throughout the year. From the LP here is the sublime 'Lining Your Pockets'. A lot of people forget just how successful Ocean Colour Scene actually are. As well as an impressive six consecutive Top 10 hits, they also scored another 11 Top 40 singles and no less than five UK Top 10 albums. This particular single from was one t... Originally formed as a backing group for a folk-flavoured Simon Fowler solo project, Merrymouth soon evolved into a great band in their own right, partly due to the creative urges of Fowler's Ocean Colour Scene bandmate Dan Sealey, himself a very tal... Some will disagree with the following statement, but only because they haven't heard the evidence... Simon Fowler of Ocean Colour Scene is one of the most underrated British songwriters of the last 20 years. Don't agree? Take a listen to 'Wenlock Hil... So with this week's Britpop 20th anniversary celebrations on BBC 6Music, Radio 2 and BBC Four, a number of other people have been having their say on the final big musical phenomenon the world ever saw. Clashmusic.com ran a piece yesterday entitled "... Ocean Colour Scene were never a Britpop band, but were a group who found their way through the door thanks to the thriving climate for British guitar acts during the mid 90's. After an unsuccessful stab at following in the footsteps of the Stone Rose... When Birmingham mod-rock revivalists Ocean Colour Scene arrived into the charts in 1996, a lot of people were unaware that this band had actually been trying their luck for some time before the Britpop phenomenon opened up the doors for lots of great...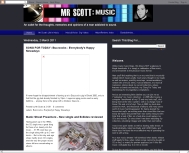 Today the excellent Ocean Colour Scene vocalist and songwriter Simon Fowler releases his debut solo album. The album entitled 'Merrymouth' also features award winning folk musicians John McCusker and Andy Cutting. Whist Ocean Colour Scene t...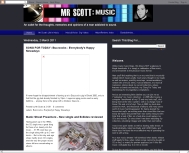 Ocean Colour Scene front man Simon Fowler has been working with Pledge Music and is set to release his Merrymouth album featuring the award winning folk musicians John McCusker and Andy Cutting: http://www.pledgemusic.com/projects/simonfowler#project...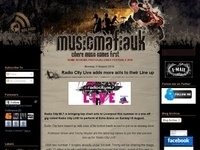 Simon Fowler from Ocean Colour Scene plays Liverpool April 23 Harvest Sun Promotions Simon Fowler from Ocean Colour Scene plays an intimate show at Static Gallery, Liverpool Monday April 23 £15 Simon Fowler has announced he w...