Blog Posts - Sipdroid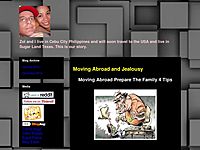 Make free Calls to the US and to your loved one anytime.Over the years it has gotten cheaper and less expensive to communicate with loved ones. The internet has made it easy to make low cost and free calls to loved ones. Since I am from t...
Desde que Skype fue comprado por la "empresa de Redmond" hace un año, los usuarios de GNU/Linux hemos sido testigos del abandono casi total del desarrollo de un cliente decente para nosotros. Segun palabras de Ballmer (traduccion en esp...