Blog Posts - Snacks Item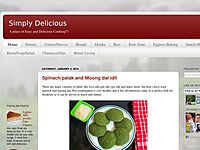 This is my last post from US,I am going back to India,Pune for good on. I will not able to visit your space regularly for a month.Some times we all feel something quick and chapata(spicy) snack, this is perfect and instant version Of bhel,that can be...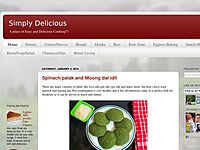 This is the perfect cake for beginner baker like me and avoid to eggs in baking ,it is very moist,softAnd perfect snack time cake.(Adapted from Best Recipes)Ingredients:All purpose flour(maida)-1 and 1/ 2 cupsCustard powder-3/4 cup &...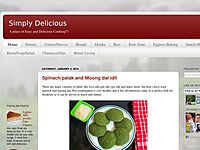 I love this soft,spongy and white idlis with sambhar and coconut. This hot healthy snack is probablyThe lightest but also the most filling snack in India. Ingredients:Rice-2 cupsUrad dal( spilt skinless black gram)-1 cup &...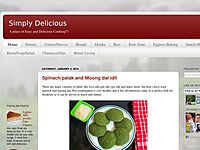 Muthiyas are typical snacks from Gujarat and favorite snack at our house.you can refrigerate any leftover served at breakfast or for kids lunch.you could use carrot,spinach instead of cabbage...experiment with your favorite combinations of vegetables...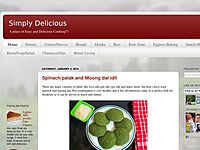 I love this delicious,bright yellow savory,snack dish from Gujarat, I learned to make this dish long back from one of my Gujarati friend.Making khandvi takes some practice to know when the batter is cooked to the correct consistency.Ingredients:Besan...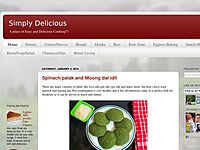 This is really a simple,healthy and tasty treat that makes a great munching tea time snack.you can also sent as a snack along with your kids snack box.Here i have used whole wheat flour to make more healthier but You can also use all purpose flo...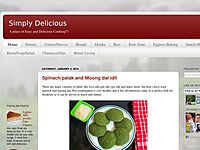 Dahi vada is a very famous snack or street food from North India. My Mom-in-law is an expert in making dahi vada, there is only one secret to make perfect dahi vada.if you whip batter with hands for 4 to 5 minutes then only you will get vadas melt i...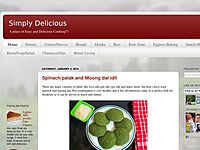 This simple dish can be made quickly and easily,it can served as a delicious appetizer,evening snack or breakfast.kids would definitely love this so try out this crispy appetizer. Ingredients:poha(beaten rice)-1 cuppotato-2 medium(boiled,peeled...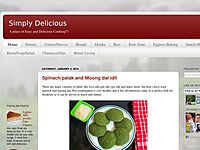 Masala poori is a very quick and easy to make snack or breakfast and tastes great with any pickle or dry potato curry ,you can add flavor as per your choice like carom( ajwain seed),crushed black pepper etc. and try to serve hot so taste will better.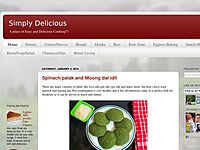 Dhokla is very popular Gujarati snack item traditionally made with rice and lentils. when I saw this recipe in nishamadhulika I couldn't resist myself to try out. It is very delicious,soft and spongy as well as very quick and easy to make.it can be m...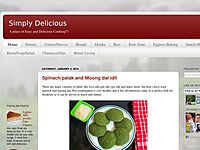 Corn and methi kabab is very healthy,delicious and preparation is quite easy, made with corn,methi and potato.Try out this flavorful and perfect tea time snack.Ingredients:Corn-1cup( boiled & mashed) Methi (fengureek leaves)-1cup finely choppedPo...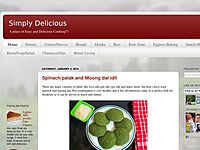 Hummus is a spread or dip made with chickpea, garlic, olive oil, and lemon Juice.Try this Middle Eastern delight at home.it an excellent source of protein and fiber and It is quite easy to prepare and it taste great with chips, pita bread and v...