Blog Posts - Snake Bean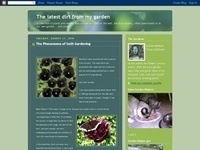 The coolest new bean in my assortment. It's said to do well in Texas heat. Another great feature is the bend ability that lets you create wondrous eye appealing edible conversation material. Unique and delicious, yard long beans grow extra long...
We are into our second month of autumn weather and temperature is cooling down nicely. All the herbs and vegetables as well as fruit trees are still thriving. This morning I went to do some harvesting and as you can see in the picture above it was a...