Blog Posts - Socijalna Anksioznost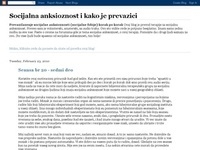 Dobrodosli na seansu br. 16 koja nastavlja sa objasnjenjem komprehensivne kognitivno bihejvioralne terapije i posebno grupne bihejvioralne terapije. Vi ste vec shvatili koncept sporog i postojanog uspinjanja po vasoj hijerarhiji. Ali zelim da vam pon...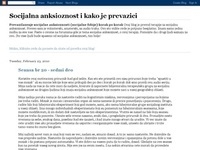 Postoji jos mnogo vrsta aktivnosti u krugu smrti. Citav koncept kruga smrti je da vi mozete znati i videti kad ce doci vas red. Ali nemate nacina da to ubrzate ili usporite. Kognitivno, pre nego sto smo poceli sa krugom smrti, vazno je naglasiti da...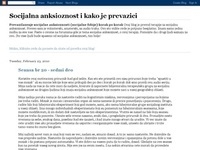 Ja sam ranije bio vrlo samosvestan dok sam cekao da platim u redu u samousluzi. Osecao sam kao da svako iza mene gleda svaki moj pokret i svaki moj gest. Mnogo puta sam osecao kao da ne mogu da se pomerim jer ce me ljudi ismevati ili pricati medju so...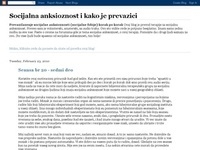 Sledeci prirucnik je "List hijerarhije" koji cemo vi i ja popuniti zajedno. To je jednostavan prazan list papira sa brojevima od 1 do 10 koji idu od dna ka vrhu. Posto svi imamo anksioznost u vezi mnogih situacija, mi cemo imati mnogo razli...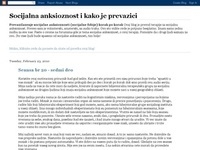 Dobrodosli na seansu br. 15. Prosle nedelje smo poceli da raspravljamo detaljnije nego ranije o bihejvioralnim komponentama kognitivno-bihejvioralne terapije. Pricali smo o grupi bihejvioralne terapije koja je vazna za ljude sa socijalnom anksioznosc...