Blog Posts - Spanish Tourism Recent studies of the different nationalities who buy a property in Spain have shown that the British continue to lead the ranking with 18.62%; followed by the French with 9.39%; the Germans, 7.25%; Belgians, 6.90%; Italians, 6.13%; Russians, 5.83%;... Our regular legal-contributor Raymundo Larraín Nesbitt explains the changes in rental laws in Spain spurred by the key ruling of the European Court of Justice (ECJ) from last 3rd of September 2014 (Case C-127/12), as well as the new touristic rental... Spain is the second most important destination for cruise holidays in Europe, second only to Italy. Spanish cruise ports received nearly 6 million passengers last year, a level that the port authorities are keen to maintain, and improve. Port charges... According to TripAdvisor, the best beaches in Spain, voted by their readers during the last 12 months, are in Andalucia, the Balearic Islands, Galicia, the Canaries and the Basque Country. Votes were based on marks for the quality of the beaches and... Over a year ago the Spanish government passed a new law limiting the rental of tourist homes during the holiday periods, whilst also yielding its regulation to the different autonomous regions of Spain. Today, each region legislates differently, for... After months of debate, the regional government of Madrid has approved a strict regulation on short-term rentals, which could develop as a model for other cities. The new decree, Decreto de Regulación de Apartamentos Turísticos y de las Viviendas d... Granada is a great destination to savour Real Spain. Here are ten luxury ideas to treat yourself to a little something whether it be a beauty treatment, an amazing view or daytrip. Granada´s local cuisine boasts many locally produced foods. It even... Marbella is a centre of prestige and exclusivity on the beautiful Costa del Sol and it is considered to be one of the most luxurious holiday destinations in the world.  Most extravagant of all is Puerto José Banús, 7 km from Marbella centre along... With thousands of kilometres of coastline bordering the Atlantic and the Mediterranean, Spain is a haven for sun worshippers and all types of water sports… Video – Spain's sun and beaches http://www.youtube.com/watch?v=8DQocM-m3GY Check...
After Gyohee spent the night at our dorm, drinking beer and such, we woke up soon to visit Seoul's National Museum (will post about this soon). Since we spent so many hours walking inside the museum and it was already "late", Gyohee told us to have l...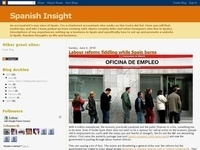 I have never rated the Spanish retail sector with its poor service, over-priced and uninspiring product lines and old-fashioned stores. But apparently they are the next big tourist attraction.According to this article - Spain's retailers reboot...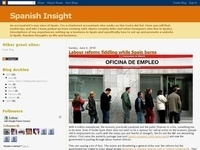 It's Spain's number one industry and main source of unemployment so it is merciful that tourism has held up well during the crisis. But is Spanish tourism about to go into reverse?Probably not, despite a fall in tourist numbers announced recent...