Blog Posts - Strange Dream
He is walking past the swimming pool belonging to an adjacent block of flats and becomes aware of somebody in difficulty at the far end. Of course, he doesn't think twice, and launches himself in to save the flailing figure. Automatically, he begin...
last night I had a dream... Continue reading →...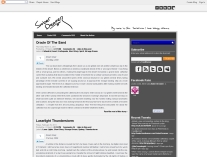 Dream Diary 23rd May, 2009 The sun beat down unforgivingly from above us as we glided over yet another anhydrous day in the middle of the desert. Below us stretched an endless wasteland devoid of life or any signs thereof. I was flying with a small...