Blog Posts - Studios And Sketchbooks
Not in chronological order, but this is how I came to know the body, in its parts. 1. television (screen shots): Lest we not forget the plethora of intelligence being thrown around by tv docu's and their cool hosts on a range of specialist sub...
This post is briefly looking at the interior of some artist studios miscellaneously collected. Avoiding famous artist studio for now (mine is in there too).  After a quick look at these photographs it becomes more obvious how the studio can affect...
The drawing is part of the present growing series of 'Medical Compositions'  which continue initially in the manner of anatomical illustration. Although, how I go about making the images may be far from the industry standard. After a dra...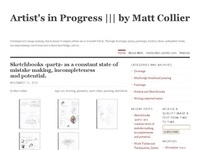 The new blog address has a new post! The change is to be more inclusive of artist's in general. At present I am gathering studio images and/or sketches of others which lead to finished works- yes, work in progress, the in between state of the p...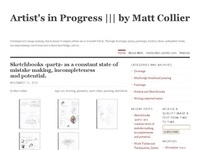 'The Moment of Privacy Has Passed': Sketchbooks by Artists, Architects and Designers'. (11 Dec 2010 – 20 March 2011). Usher Gallery, The Collection, Danes Terrace, Lincoln. I am very pleased to present an exhibition featuring the SKETCHBOOKS...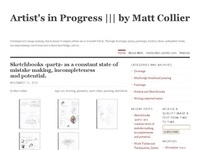 [Many thanks to those who got the chance to vote, my drawing has now been entered into the Birth Rites Collection! All the works in the growing collection relate to the potent topic dealt with by contemporary artists.  http://birthritescollection.or...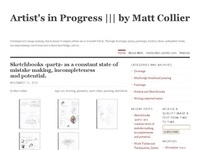 This oil sketch on transparency is a small area traced from my painting being produced throughout this November. This sketch was to try out a straight forward order-of-colour, for this particular technique. Learning that any white used in the paint b...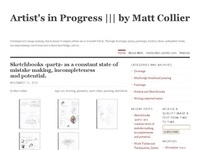 Do they still use blackboards in schools? Possibly, they won't be around forever. Regardless of the 'ground', these temporary images are a epicentre for densely packed information and imprecise fast moving illustrations. To me the...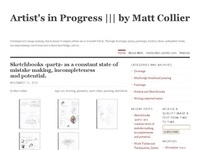 Response to a book review of: 'Sketchbooks, The Hidden Art of Designers, Illustrators and Creatives'. This article has best intentions. Clearly graphic artists may be influenced by art in its purist sense, while contemporary artist'...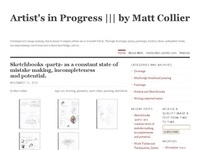 For some the sketchbook may be the definitive middle, between the conception, into actualisation of work. These are the thinkings become visible, existing as a real working element into the creating of art. An appropriately titled exhibition T...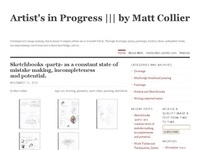 This is working towards a new methodology of my paintings. Transparent oils will 'activate' the drawing. Diluted into very organic washes and smears where the drawing can still be seen vividly underneath.. two studies have been posted whi...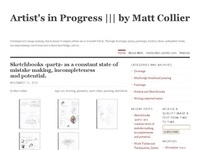 Methods in progress: The transparency of this painting on acetate can clearly be seen in this projection, which happens to look great- not to mention fleshy, dark, even somewhat morbid, especially in contrast to the actual image (posted in October).