Blog Posts - T.j. Oshie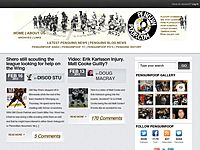 Paced by T.J. Oshie's first playoff hat trick and a 42-save performance by Braden Holtby, the Washington Capitals drew first blood in their Eastern Conference Semifinals tilt against our Pittsburgh Penguins. Oshie's game winner at 9:36 of overtim...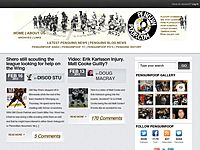 Buckle up, ladies and gents. The thrill ride's about to begin. Our Pittsburgh Penguins and the Washington Capitals are set to renew one of the most bitter (and one-sided) rivalries in Stanley Cup history at the Verizon Center on Thursday night. Di...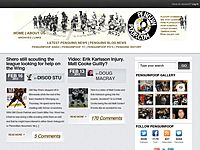 As I took my seat at the Pennsbury Pub and Grille last night to view the Penguins-Capitals game on the big screen, I felt an odd blend of excitement tinged with trepidation. Scarcely 24 hours earlier, I watched our Pens clobber a very good Flyers...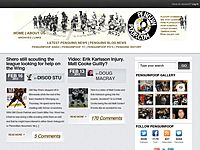 In the wake of injuries to goalie Marc-Andre Fleury and winger Beau Bennett, the Penguins have recalled forwards Kevin Porter and Conor Sheary—along with goalie Matt Murray—from Wilkes-Barre/Scranton. After skating through the opening two mont...
http://www.rds.ca/sotchi/RDS.CASAMEDI, 15 FÉVR. 2014. 09:52Un grand match de hockeyEntourés par une foule hostile et survoltée, les Américains ont ramené à l'ordre le pays hôte du tournoi olympique de Sotchi avec une victoire de 3-2 au terme...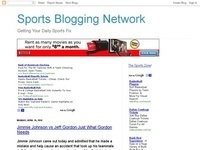 It should not come as a surprise that Russia and the United States battled each other right down to the wire. These two hockey teams are talented and fans would expect no less. What maybe surprising is the way it end on T.J. Oshie shootout goal in th...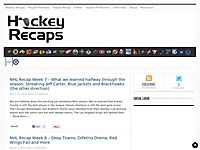 Recap of Week 5 in the 2010-11 NHL Season. Including Goalie Spotlight, Fights of the Week, Goat of the Week, Things I Like, Things I Don't, This Week in Hockey History, Stat Line of the Week, Did You Know, Quote of the Week, Numbers Numbers and Ranki...