Blog Posts - Taylor Chang-babaian
Style Eyes is the second book by makeup artist Taylor Chang-Babaian. Her first book, Asian Faces, focused on various makeup style and needs of Asian women. Now she's approaching women of all ethnicities but focusing on what might the most challenging...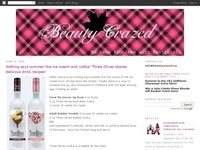 This is the time of year that I start thinking about gift ideas - you won't find it surprising that most of the presents I give are beauty related but sometimes I have no idea what sort of makeup someone prefers so instead I give beauty books! Style...