Blog Posts - Teacher Assistants Another school year is over and I am feeling the love! Just take a look at the thoughtful gifts I received from Mrs. B. today...I'm not going anywhere, but Mrs. B. is retiring.She gave me this Coca-Cola tin sign... ...and wrote me the sweetest l...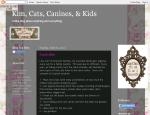 Yesterday every teacher assistant in my county got a pink slip. They are all being fired as of June 30.We knew our school district's budget for 2012-2013 wasn't looking good. We knew there would be cuts. What we did not know (until...

YAY. BINA TUNAS CEMERLANG Is a National Plus Early childhood  and Primary School located in Bogor, Jawa BaratWe are currently seek qualified individuals for the following positions: Teacher Assistants and Teachers (Bogor) for early childhood program...