Blog Posts - Temples In Rajasthan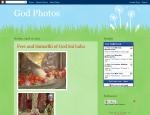 Eklingji Temple is one of the Most Famous Temples of Rajasthan. Located in the town of Eklingji (Kailashpuri), the place got its popular name from the temple. Eklingji Temple is positioned at a distance of 22 km in the north of Udaipur, on the natio... He is the source of light in all luminous objects. He is beyond the darkness of matter and is unmanifested. He is knowledge, He is the object of knowledge and He is the goal of knowledge. He is situated in everyone's heart – Bhagavad Gita 13.18Ap... This monkey sitting on the parapet was so engrossed in feasting on his banana that he didn't mind me clicking his snap.[ A monkey at the entrance of the Govind Devji Temple, Jaipur ] As I entered the 'Govind Devji Temple' in J... Apart from the Lord Brahma Temple, there are some other important temples in Pushkar. I could visit only the Rangji Temple, while the rest of them were given a miss due to lack of time. I am describing some of the important ones below.Rangji/ Ramavai...