Blog Posts - That's The Spirit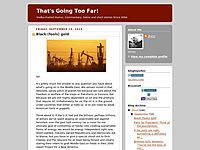 Small town life in America is often romanticized, but there is a dark side to some rural villages, and you can read about one such town in my new story "Essay: Why I like Living in a Small Town" at That's the Spirit.
The paring knife slipped off the tomato skin and cut a half-inch slice into Meg Baker's thumb."Shit," she hissed, sticking her thumb in her mouth.Her boyfriend Sean called from the living room. "You okay?""No," she mumbled, walking to the b...