Blog Posts - Tweetergetter
Buy Me! Vodafone Australia Release date for Nokia N86 8MP is : .... They don't know! Thats right N86 8MP is due to be released in Australia by vodafone, they are selling it already plan and all! I was very excited about potentially getting my new...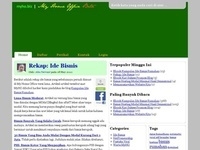 Many of you may have seen the Twitter's power in marketing. I have, but I haven't experienced it in the big way. But at the very least I do gained visitors for my blogs from Twitter. The impact of Twitter as a marketing tool to your busin...